Yuko's 21-Day Promise -
Smoother, younger, more radiant looking skin in just 21 days or your
MONEY BACK.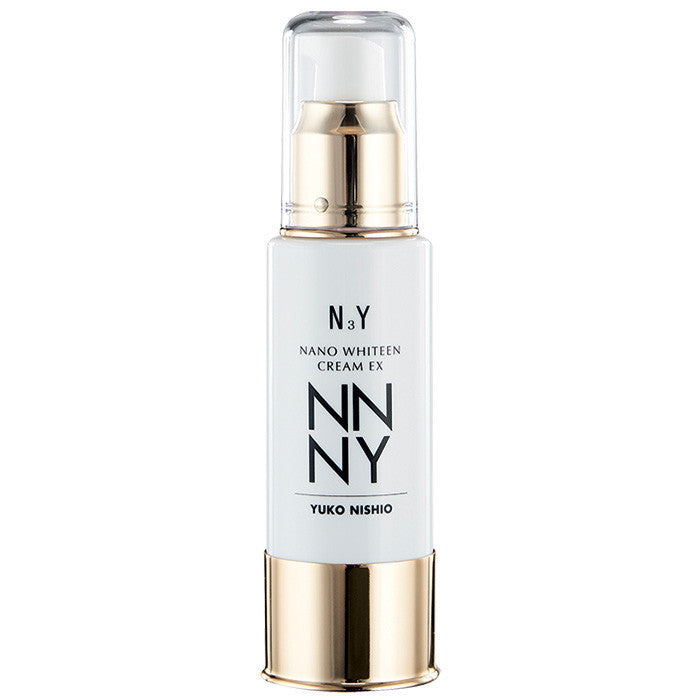 Nano Whiteen® Cream EX
A Super Rich, 5-in-1 Powerhouse
This anti-aging moisture cream with a powerful blend of 55 restorative botanical extracts helps restore a youthful glow and supple, smooth skin texture instantly.
Benefits
The flagship of the NNNY Skin Care product line, the Nano Whiteen® Cream EX is a 5-in-1 miracle (moisturizer, cream, toner, lotion, and makeup base) that allows you to simplify your skin care regiment while enjoying a radiant look.
More than 55 specially selected plant-derived extracts work in unison to rejuvenate and firm the skin, minimize the appearance of enlarged pores, eliminate the lines of age, and erase the discoloration of UV exposure.

Delivered in an air-tight pump to ensure freshness and keep bacteria at bay, you'll be able to enjoy a restored youthful glow and suppleness, from the very first application.

*Like all products from NNNY, this cream is fragrance, colorant, paraben, and cruelty-free.
Net. Wt. 1.7 oz. / 50 g


Premium Ingredients
French Maritime Pine
The extract from this plant (Pycnogenol) not only has triple the antioxidants of Vitamin C and double the antioxidants of Vitamin E, it also promotes natural collagen renewal in the skin while combating free-radical damage from UV radiation.  

Retinol
More commonly known as Vitamin A, this key ingredient diminishes fine lines and wrinkles.

Licorice Root
Improves the brightness and clarity of your skin (including acne scars) thanks to flavonoid containing glycosides that inhibit the production of the enzymes responsible for unwanted pigmentation.

Okinawa Mozuku Seaweed
Known for containing remarkable skin protection properties, this is a rare brown seaweed harvested from the Okinawa Islands of Japan. Out of all seaweeds, Okinawa Mokuzu seaweed is the most desired for the richness of its Fucoidan—a sulfated polysaccharide known for its ability to firm and tone skin at the cellular level.

White Peony
A natural antioxidant, the tannin-rich extract of this flower is used to illuminate skin tone as it restores suppleness.

Chlorella
These blue-green algae are rich in the type of amino acids that promote firm, glowing, youthful skin.
How to Use

Gently apply NNNY Nano Whiteen both in the early morning and the evening before bed for maximum effectiveness.
Step 1 - After cleansing your skin, dispense 5-6 pumps of Nano Whiteen® Cream EX.
Step 2 - Apply to the face and neck area.
Step 3 - Using fingertips, gently massage cream from the inner facial points outward, using upward, circular motions.
Step 4 -Continue massaging until absorbed, applying additional cream to areas of particularly dry skin.
$360.00